Meet Dr. Rachel Stibbard
Early and Personal Experiences with Chiropractic Care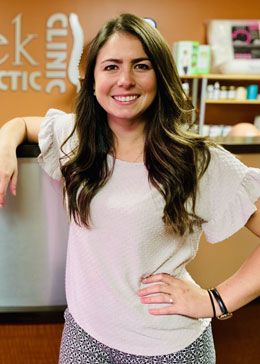 I was introduced to playing sports at a young age, in my hometown of Niagara Falls, Ontario. I started playing soccer at the age of 4 and running cross country & track and field at the age of 6. As I grew up I had the opportunity to start playing soccer at a competitive level and still continue to play today! When I was 18, I was introduced to chiropractic as I had injured my knee in a soccer game. Unable to fully bend or straighten my knee, I decided to go and see a chiropractor. This was the best thing that I could have done, as it allowed me to get back playing with no pain or issues!
I always wanted to be involved in the health care system because of all my childhood activities and injuries. My passion to become a chiropractor stemmed from an incident with my grandpa. He was unable to move and spent weeks lying flat on his back after a spinal injury. He was told by all doctors he needed spinal surgery to fix his back and that it would be a long and painful recovery. He sought out a chiropractor, as a second opinion. This was the best decision he could have made. Sure enough, the chiropractor found the cause of his pain. Through chiropractic adjustments, it helped get him functioning pain free and healthier. He is currently in great health, exercising daily and maintaining his health with regular chiropractic adjustments.
A Well-Rounded Chiropractic Education
Dr. Stibbard received her undergraduate degree in June of 2015, from the University of Western Ontario, earning her Bachelor of Arts in Kinesiology. After this Dr. Stibbard attended the prestigious Canadian Memorial Chiropractic College and graduated in June of 2019. She successfully completed the Canadian and Provincial Boards to practice in Ontario.
Throughout her time in school, Dr. Stibbard completed extra courses in Functional Movement Assessment, Post Partum Rehab, Functional Integrated Acupuncture, and Pediatric Adjusting. She is also well versed in a number of techniques including diversified, activator, and drop piece/ toggle board adjusting.
A Passion for Women's Health
Dr. Stibbard has a passion for women's health, which includes pregnancy, post partum, and pediatric care. The birthing process is one of the most traumatic experiences for mom and baby. It is so important for mom to be working and feeling her best during her pregnancy and after birth. During pregnancy and the birthing process, it is very traumatic on the baby's body. This can lead to dysfunctions later in life, that weren't addressed after birth. Dr. Stibbard is able to help prepare you for birth while you are pregnant and help you and your little one after. It is critical to have your body moving and working properly during this time!
Dr. Stibbard is a member of several professional organizations
The College of Chiropractors of Ontario
The Ontario Chiropractic Association
The Canadian Chiropractic Association
Dr. Stibbard is excited to be serving the Leamington community and surrounding areas!
She looks forward to meeting you and your family & learning how she can serve all of your health needs and concerns. Contact our office to schedule your appointment today!
CONTACT US »

---
Chiropractor Dr. Rachel DiStibbard | (519) 322-4859