Meet Dr. Peter A. Buzek, Hons. B.Sc.H.K., D.C.
Imagine being 13 years old and unable to walk or climb stairs…
As a child, I played hockey in my hometown of Brantford. During a game, I hit the boards and immediately felt pain in my low back and a tingling in my legs. I followed all the normal health procedures by going to the medical doctor. He told me I had muscle spasms and prescribed medication. The pain continued until it got so bad that I couldn't lift my legs to walk and had to use a cane!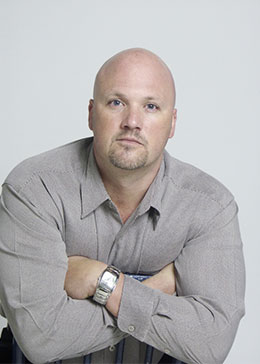 Looking for alternatives, I tried physiotherapy and massage, but neither helped my pain. I turned to chiropractic as a last-ditch effort. The chiropractor thoroughly examined me and determined I had a herniated disc in my low back. Within a few weeks of regular adjustments, I was walking without a cane. The doctor gave me a gift that I pass on to all of my patients: the gift of caring and serving with compassion.
My experience with the healing power of chiropractic is what set my sights on an amazing career as a chiropractor.
Learning to Improve Health, Naturally
Dr. Buzek received his undergraduate degree from the University of Guelph, earning his Honours Bachelor of Science in Human Kinetics. In 1990, Dr. Buzek entered the prestigious Logan College of Chiropractic in St. Louis, MO. After 10 intense semesters of study, he returned to Ontario and wrote the Canadian and Provincial Boards to practice in Ontario.
Since graduating, Dr. Buzek has continued to undertake studies to be fully competent in meeting our patients' needs. He has received education in an adjustment technique called Cranial Adjusting Turner Style (CATS) to adjust the 22 movable bones in the skull that can subluxate and put pressure on the brain. This pressure can cause a loss of body function, autism, seizures and learning disabilities.
Dr. Buzek is a member of several professional organizations:
The College of Chiropractors of Ontario
The World Chiropractic Alliance
The International Chiropractic Pediatric Association
Spreading the Healing of Chiropractic
Dr. Buzek is a front-line executive coach to chiropractors across North America. He is also a best-selling co-author of the book "The World's Best Kept Health Secrets Revealed, Volume III." His patients include medical doctors, dentists, denturists, lawyers, police officers, firefighters, professional athletes and people in third-world countries.
"I've been entrusted to give chiropractic care to tiny babies that are only days old, local athletes and seniors well into their 90s." Dr. Buzek firmly believes in natural health care for all generations.
"My mission as a chiropractor is to care for and serve as many individuals as possible in order to express and maintain their maximum human potentials. I do this naturally, without drugs or surgery – with the highest quality of chiropractic care. My mission is to serve not only those locally – but also globally to make this world a healthier place, one spine at a time."
In keeping with Dr. Buzek's mission, we are a family-based wellness care centre. We strive to educate our community that life and health come from within and that the maintenance of health is far superior to the treatment of disease.
We take an active part in local functions including sponsorship of local charities and sports teams. Our clinic has been involved with Toys for Tots, collecting and donating toys to local families since 2001. We also have donated our time to help raise money in the community through events such as
Salvation Army Kettle
Backpack Safety Training at Walmart
Children's Posture Screening
Colasanti's Family Fun Day
Kids Day International
Leamington Tomato Festival
Local Community Clean Up
Shows by The Shore
The Kidney Foundation of Canada Gift of Life Walk-a-thon
Transition to Betterness Cut-a-Thon
Chilifest
Diamonds & Denim
Taking his mission globally, Dr. Buzek has lead numerous have been involved in three chiropractic missions to the Dominican Republic, serving thousands in a third-world country. On his last mission, he and six other chiropractors served over 15,000 people in five days.
Living a Lifestyle of Wellness
"I have been a Doctor of Chiropractic since 1995 and a chiropractic patient since I was 13 years old. I maintain a healthy lifestyle by eating nutritious foods, exercising daily and receiving regular chiropractic care."
Dr. Buzek's children, Kieran, Kiana and Kamora as well as his amazing wife Shelley all share this lifestyle. Their children have all been adjusted since birth, and not one of them has had an ear infection or had any drugs put into their bodies. They are healthy by choice, not by chance, and this is a way of life that Dr. Buzek encourages all of his patients to pursue.
We look forward to meeting you and your family & learning how we can serve all of your needs. Contact our office to schedule your appointment today!
---
Buzek Chiropractic Clinic | (519) 322-4859